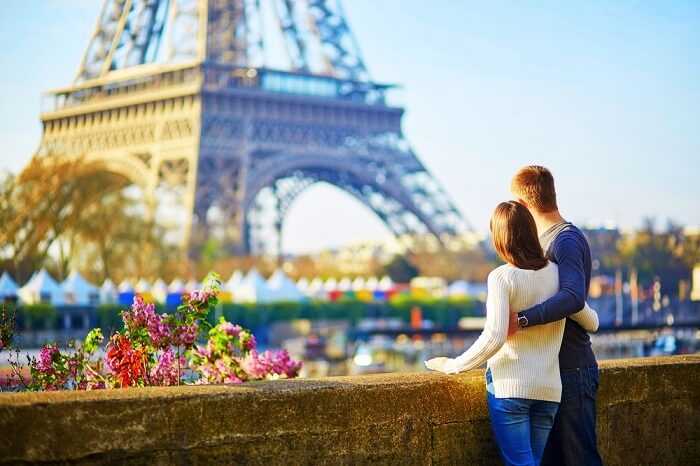 Valentine's Day is that day in every couple's life when they thrive to relive the unique bond they share, and when someone somewhere finally decides to tell that one special person how much they mean to them.Whatever be the case, this one day holds phenomenal importance in every lover's life, which is why, it is of utmost importance to celebrate it in such a way, that it leaves an everlasting impact over your better half and moves their heart. And what could be a better way of celebrating it, than in a distant, dreamy, gorgeous location, that makes you fall for each other all over again….
Places to visit for Valentine's day in India
Here is a quick overview of all amazing places to take your sweetie on Valentine's day-
Kumarakom, Kerala
Ooty, Tamil Nadu
Agra, UP
Srinagar, Jammu & Kashmir
Havelock, Andaman Islands
Munnar, Kerala
Goa
Ananda Spa
Rishikesh, Uttarakhand
Santorini
Bali
Maldives
Masai Mara
Paris
Mauritius
1. Kumarakom, Kerala: Row through the backwaters with your love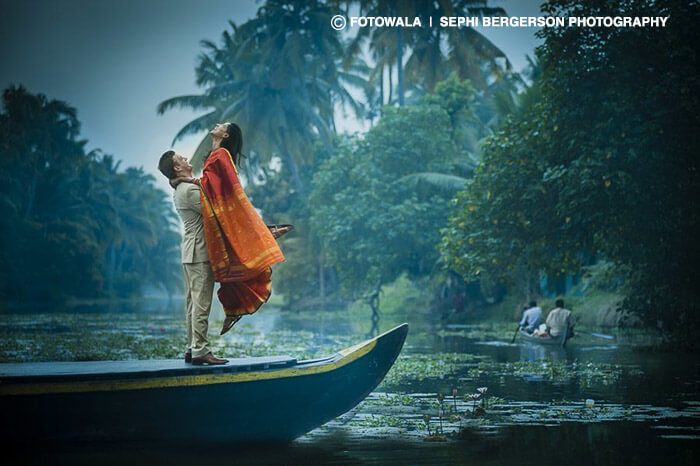 Spend your valentine's day on the quaint backwaters of the pristine city of Kumarakom, which is among the most romantic places in India for Valentine's Day 2018. Make lasting promises in the arms of your lover as the boat slowly rows through the smooth, lotus laden waters and picturesque vistas of Southern India. In fact, it's not just few hours' affair, you can even opt to spend the night aboard traditional houseboats, which feature cosy bedrooms, sitting area, en-suite bathroom and kitchenette.
2. Ooty, Tamil Nadu: Romance amidst the hills and the chill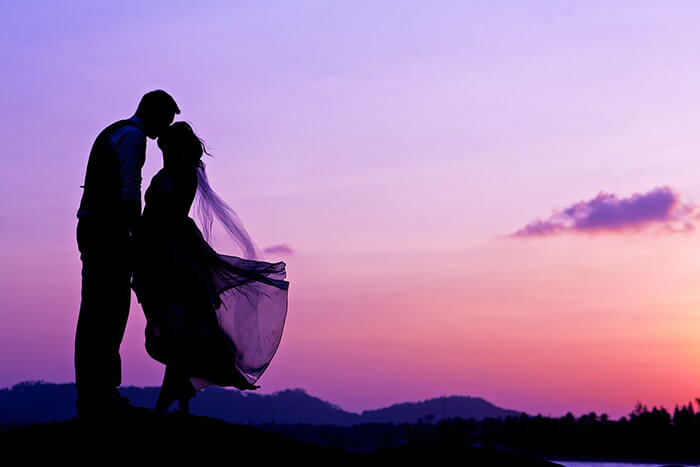 Owing to the stunning views of the Western Ghats and the magnificent beauty of hills, Ooty is perhaps the best place for couples on Valentine's Day. Enjoy the chilly winds atop this serene hill station while you cuddle up in the warmth of your partner and revel in the intimacy.
3. Agra, UP: Confess your love in the shadow of the Taj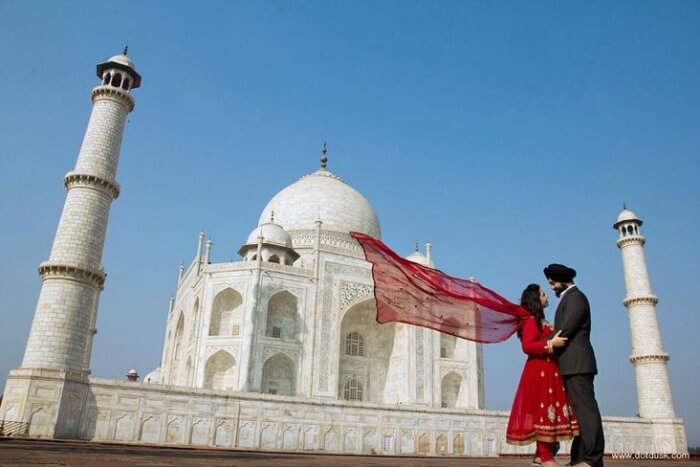 Rediscover love at the most stunning epitome of romance- the Taj Mahal, one of the best places to go on Valentine's Day. Stay at The Oberoi Hotel and spend a lavish evening with your significant other while basking in the magnificent glory of the Taj.
Agra also has other historical structures for those inspiring Instagram posts! Spare a day for touring Fatehpur Sikri nearby.
4. Srinagar, Jammu & Kashmir: Take your better half to this Heaven on Earth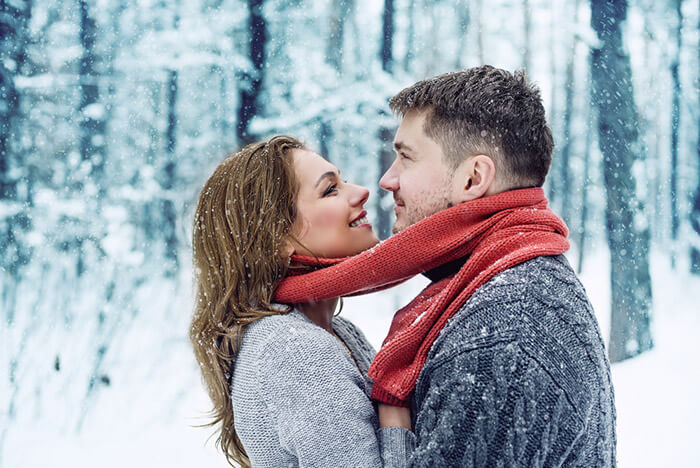 What better a place for romance than the white, snowy landscapes of Srinagar in Kashmir. Have a passionate snowball fight or two and get entwined in each other's charm at one of the sweetest places to go on Valentine's Day. We strongly recommend staying aboard the houseboats on Dal Lake for an even more beautiful experience of your getaway.
5. Havelock, Andaman Islands: Let the golden sands and the sea ignite a spark in your relationship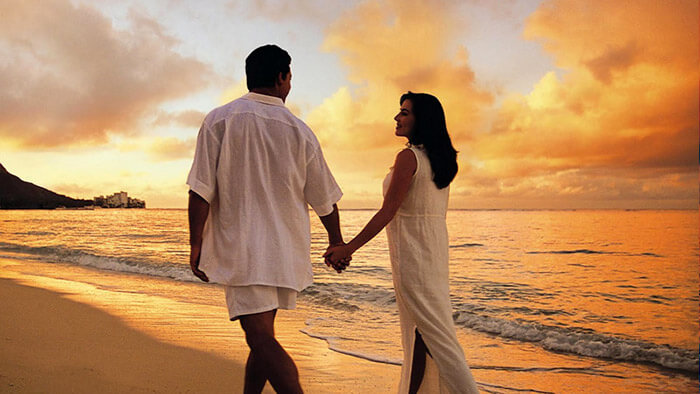 The sun, the sea and the sand have a fascinating appeal about them that lures in lovebirds from anywhere in the world. Havelock Island in Andaman is one such paradise that was made for couples, and is thus among the most preferred Valentine holiday destinations in India. Walk hand in hand on the famous, golden sands of the beach with your beloved as you would walk with them forever through the ups and downs of life.
6. Munnar, Kerala: Let the charm of the rolling pastures bring you closer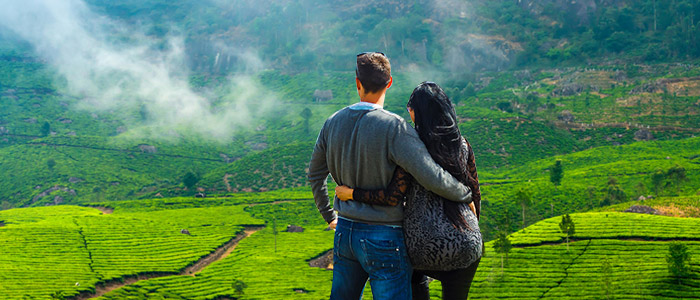 The gorgeous rolling hills, stunning tea gardens, vast stretches of greens dotted with colour, & eye warming scenic beauty make up for the most romantic destinations to visit this Valentine's Day. Munnar is known to cast a magic spell over lovers and make them lose themselves to its unending charm….and into each other.
7. Goa: Set off for a hippie style love getaway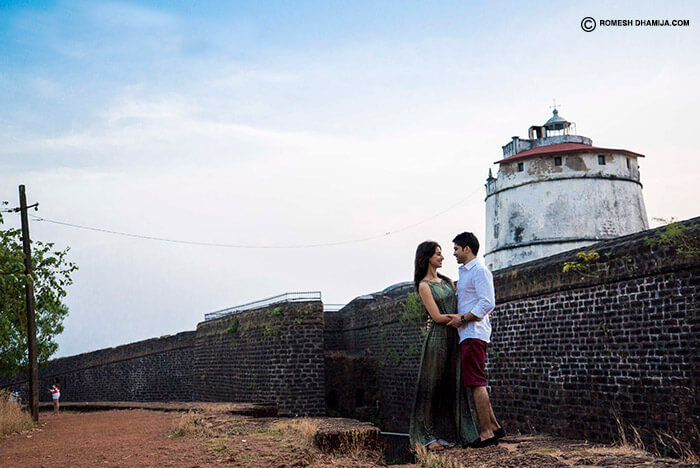 And you thought Goa was only meant for beach bums and party lovers? Goa, my friends, also happens to be among those fun places to visit on Valentine's day with your bae. The old, picturesque forts and Portuguese architecture provides a great many romantic settings to couples where they can lose themselves in each other and relive the passion.
8. Ananda Spa: Pamper yourself and your significant other with unending luxury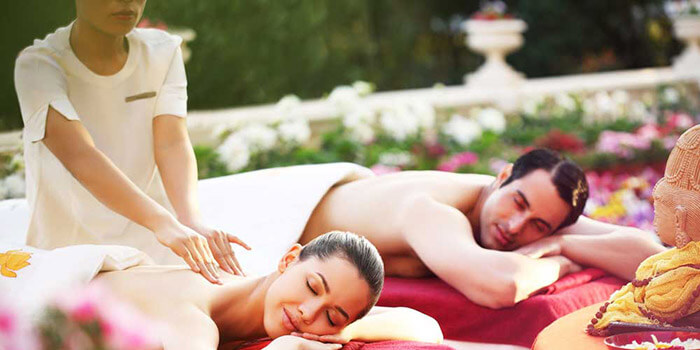 Looking for rather luxurious ways to pamper your better half? Take them to Ananda, a destination spa resort located in the foothills of Himalayas and one of the top places to go on Valentine's Day. Indulge in their exclusive Couples Connect spa therapies, while marvelling in the royal ambience and provisions of the elite resort.
9. Rishikesh, Uttarakhand: Have an adventure packed vacation with your bae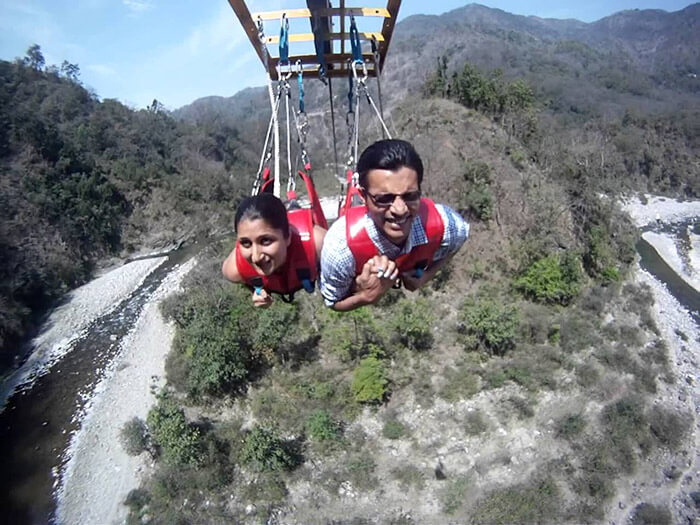 Love isn't just about romance at pretty locations and intimacy. It's a lifelong adventure that involves thrill and excitement. So, shouldn't adventure top your list of things to do on Valentine's Day as well? Indulge in the many adventure sports like flying fox, bungee jumping, & river rafting at Rishikesh with your significant other and help keep that passion and excitement alive forever.
International places to visit for Valentine's day
10. Santorini – Mesmerizing with its white village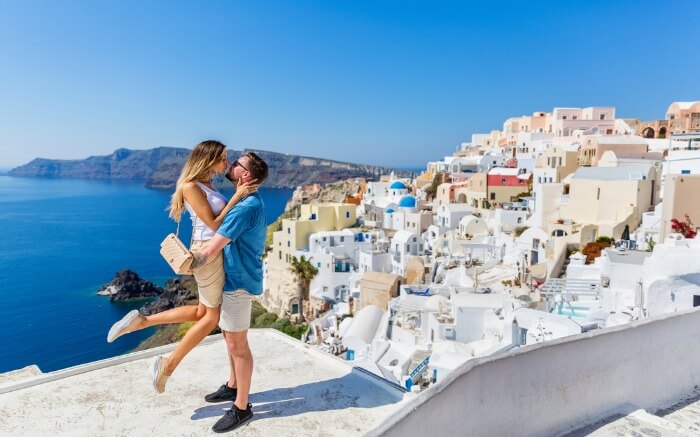 When we talk about couple goals, we often picture the white village of Oia, the vast blue ocean and two champagne glasses shining in the sunlight. This is your destination to celebrate the day of love, with the one you love. You both can hike your way to Fira from Oia, spend a sunny day at the black beach, sail aboard your private catamaran, and live in the traditional cave houses of the village.
A wine tour will add charm to your escape, and if you both are history-enthusiasts there are many archaeological sites like Akrotiri to make you weak in the knees.
11. Bali – The Island of Gods, and romance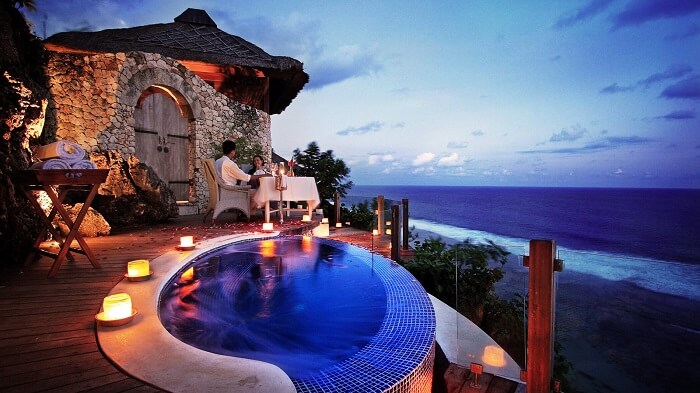 One of the most romantic, indeed versatile, destinations in the world, Bali will bewitch you with its buzzing nightlife and hypnotic beaches. This island destination in Indonesia has it all, whether you're looking for adventure sports or just spending leisure time in luxurious accommodation. Thanks for its year-long pleasant climate, you can visit Bali whenever you please, but of course, Valentine's Day is big enough an excuse!
Also, to top it all, Indonesia offers free visa to Indians, and even the flight fare is not crazy high. So, if you are thinking of visiting an international hideout this Valentine's, on a budget, then you've found your answer.
12. Maldives – The tropical paradise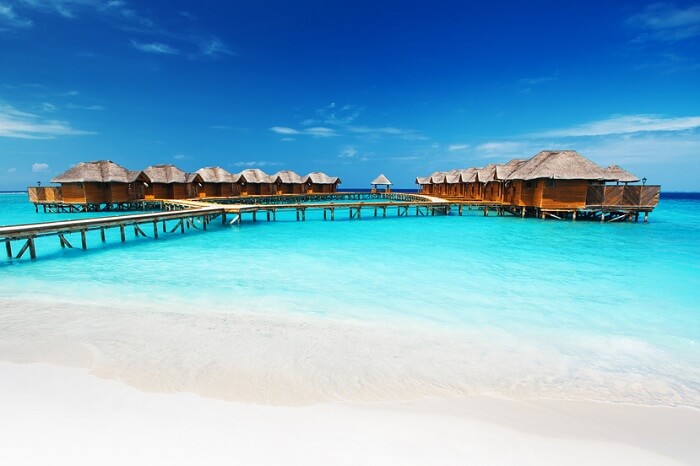 Surely, the turquoise blue sea and the overwater villas act as a magnet for honeymooners across the world. And in case you had to miss this one on your honeymoon, there is always Valentine's day to make up for it. Maldives is an ideal location especially for couples who are into luxury, water sports and spending hours at leisure by the beach.
This is one of the best places in the world for scuba diving, so prepare to witness a vibrant marine life like never before. The overwater villas spell grandeur in each step. Right from the comfort of your cozy bed to the views that will make your heart skip a beat, this is the best place to celebrate valentine's day!
13. Masai Mara – The jungle of your dreams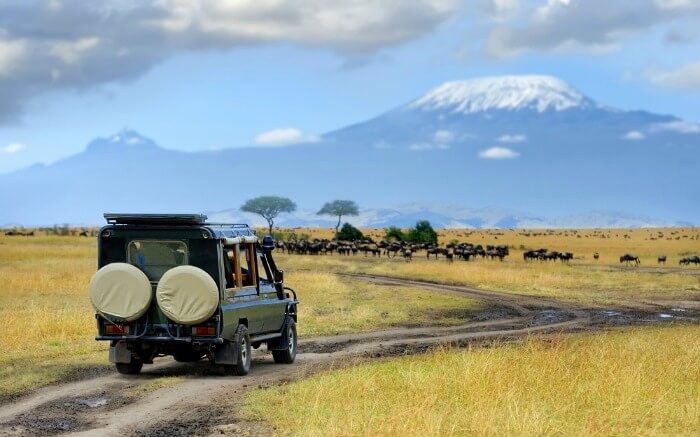 A must-visit for all the wildlife-loving couples out there, Masai Mara is a haven for many wildlife creatures. This is where you can spot the Big Five – Lion, African elephant, leopard, black rhinoceros, and Cape Buffalo. In fact, there isn't just game viewing that this place is all about, you get to enjoy some of the best glamping resorts in the world right here.
Hot air balloon safari is yet another charmer to look forward too, especially if you have something special to tell your significant other. Save the sunset for this, and experience a straight-out-of-fairytale moment.
14. Paris – Lovers' retreat
Paris and romance are often treated as synonyms. The Eiffel Tower stands and glitters as a symbol of love, and we know it. So, if you are searching for a romantic destination to escape to with your beloved, Paris has to be in consideration anyway. To make your experience better, just find a spot in a Parisian restaurant overlooking the Tower, and feast on some mouthwatering French delights. Don't forget to couple that up with a native vintage wine too!
15. Mauritius – The all-rounder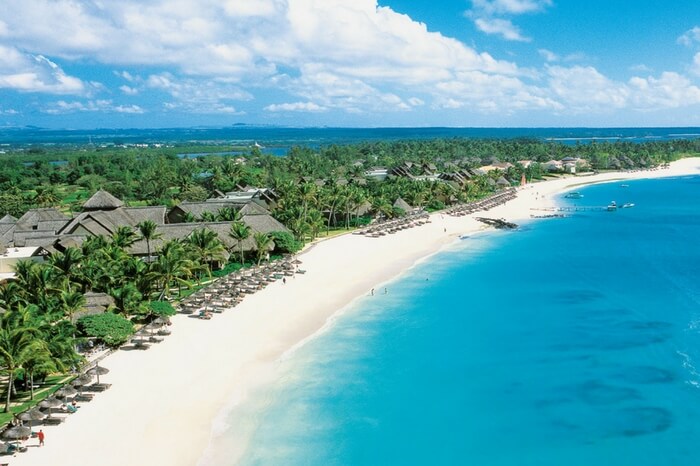 So, if you both love beaches, but also the hills, then Mauritius could be the destination to pick. This beautiful country is bejeweled with glittering seashores and prettified with lush national parks. You both can go on hikes and treks, choose to spend the day at the beach indulging in various water adventure, or simply relax at your brilliant resort. There also are many Hindu temples to visit if you have a spiritual inclination.
Source by:- traveltriangle